Prayer of a Military Wife
Give me the greatness of heart to see,
The difference between duty and his love for me.
Give me understanding so that I may know,
When duty calls, he must go.
Give me a task to do each day,
To fill the time when he's away.
When he is in a foreign land,
Keep him safe in your loving hand.
When his duty is in the field,
Please protect him and be his shield.
And when he is gone for so long,
Please stay with me and keep me strong.
You Know You're Missing a Sailor When:

1. You wear men's sweatpants and t-shirts to bed.

2. You get up in the middle of the night to check your e-mail.

3. You sleep with your cell phone incase he calls in the middle of the night.

4. You haven't shaved your legs in weeks.

5. The mailman knows you because you are always out waiting for him to come.

6. You suddenly have an obsession with anything military related.

7. You make friends with strangers online just because they are in the same situation as you and are the only ones that can truly understand what you are going through.

8. You can't decide what to wear when you meet him at the airport because his flight comes in at a ridiculous hour in the morning and you want to look cute, but not too cute, because your cutest outfit you want to save for your first full day together.

9. You find yourself checking your e-mail every fifteen minutes.

10. The highlight of your day is getting a letter that was mailed a week ago.

11. And if you don't get a letter, the highlight of your day is writing him a letter that you know he will be able to read in a week.

12. You get excited about "unknown" phone numbers calling you.

13. When the clock says 11:11, you find yourself wishing for the same thing every time: a call from your sailor.

14. You wouldn't dream of walking out of the house without the cell phone and every number you have is forwarded to that cell.

15. You find yourself randomly crying from just looking at a picture of the two of you together.

16. You find yourself randomly crying and you sometimes have no idea why.

17. You stay on the internet for hours searching for anything and everything about the military.

18. You talk to your friends about him so much that they know his full name, birthday and even his favorite color.

19. You are reading this and smiling and nodding because you know it's so true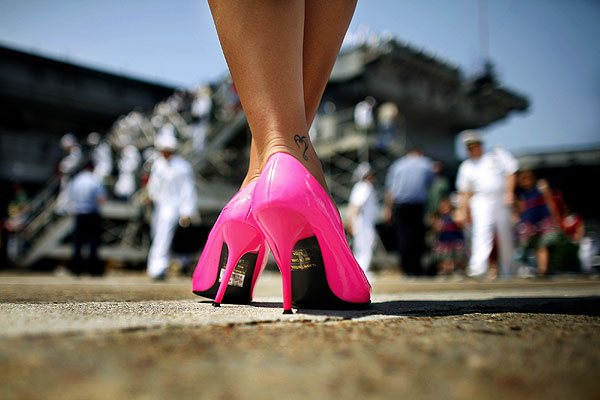 I'll always be here waiting for you <3